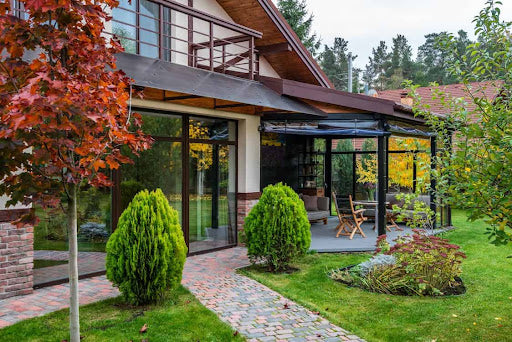 Design Considerations For Your Front Yard Landscape
Your milkshake can bring all the boys to the yard, but does it make them say it's better than theirs? After reading this blog, you can tell your friends that it's better than yours, and we wouldn't even charge you for the tips.
Adding colors to your front yard can be a challenge as you need to set a mood for anyone who will look at it as throwing in random colored elements can do the opposite of pleasing the eyes. Having elements in your yard of the selected few colors of your choice can have a major impact on how stunning your front yard can look. Interior designers and other professional designers use this technique to bring out the best in a house by matching the colors of the furniture, walls, and the rest of the elements to the color palette that has been decided. They call this a mood palette. Look at examples online and you will see that all the designs will have greenery and a yard is just incomplete without it. Do not worry even if the color Green is not in your mood palette as there are different shades of green and other colors that you can experiment with to have it look the best with the intended theme. For a deeper understanding of colored plants, refer to our previous

blog

, which discusses all there is to know about the colors of the plants.
Make your garden a visual wonder by adding lighting. Lights can be very cheap as they use variations of LEDs that are cheaper than traditional filament bulbs. Don't be mistaken, filament bulbs are also an amazing way to bring out the best of your front yard. An even better alternative to plain lights is g

row lights

. They can be used for

indoor

and outdoor gardens as well. For your front yard, they are not only aesthetically pleasing but also help the plants and grass grow in the absence of natural Sunlight. They provide the necessary lighting to plant growth, add to the ambiance of the front yard, and as they are not as bright as traditional LEDs, they light up your house, driveway, and walkways.
What an eyeliner does for one's face is what a border does for your flower beds in the garden. It is always better to have a border for different sections of your garden because it makes it look organized and clean. A border can also be used as a safety measure for animals or anyone else from running your front yard. There are many options for you to choose from for borders but try using eco-friendly alternatives such as bricks.
Have patches of your yard covered with rocks or pebbles. Adding to the fact that they make a yard look sophisticated, they also act as means for water to seep into the soil and prevent the yard from flooding in case of over-watering or heavy rain. Having these little rocks around walkways eliminates the path to become muddy and if you have pets or gusts over often, you can relate to having muddy shoe prints leading into your house. It also gives the front yard an interesting and natural vibe,
Consider planting a tree if you have ample space in your front yard. It can provide shade to animals, and by-walkers, or give shade to your entrance. If it is a fruit plant then it can bear fruits once a year. The roots of trees are sunk deep, hence they hold the soil well and prevent cave-ins, keep the soil well nourished and prevent erosion. There are options to buy and have a half or full-grown tree that can be planted directly. If the environment supports the proper growth, even ornamental colored trees can be used to bring out your house with the most beautiful front yard.
Shrubs are one of the most common decorative plants used in outdoor gardening. They can be placed along the border of the house wall, used to cover shabby or irregular borders, and around the mailbox. They are easy to maintain and with some professional help, can be grown in different shapes and sizes.
Add decorative and useful elements to your garden such as Gnomes, statues, fake rocks for aesthetics, a mini waterfall, a bird bath, or simply a table and chairs.