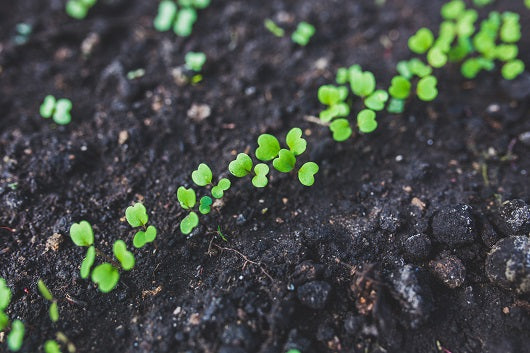 Baking Soda – Gardener's Best Friend
Baking soda is a staple for every household. It is a versatile product that you can use for yourself, your home, and your garden too. Yes, baking soda can be your magic wand in the garden. Baking soda, instead of synthetic chemicals, is a safer and cheaper way to take care of your garden. Mentioned below are a few ways how baking soda can be utilized in your in-home garden.
Use as a pesticide

 

– you can make a safe and effective pesticide with baking soda. All you have to do is mix a tablespoon of olive oil, two tablespoons of baking soda and a couple drops of liquid soap in a gallon of water. Put it in a spray container and apply gently to your garden every three days. It will definitely keep the bugs away!
Test your soil's pH levels

 

– you'll need a cup of vinegar, a mixture of a cup of baking soda and half a cup of water, two samples of soil placed in separate containers. First, pour your vinegar into one of the soil samples and observe how the soil reacts. If it bubbles, this means that its pH level is above seven, and is therefore alkaline. If it doesn't bubble, proceed to the next step. Pour the baking soda mixture into the other soil sample, and once again observe how the soil reacts to it. If it bubbles, this means that its pH level is below seven, which means it's acidic.
Cleaning garden tools

 

– baking soda makes a great abrasive to help bring back your old and rusty

 

garden tools

 

shine. Add water and vinegar in a bucket and mix carefully. Then, soak your gardening tools in the mixture for 15-20 minutes. After that, remove your tools from the bucket and, dip the back of your sponge (harder surface), to the bowl of baking soda. Begin scrubbing the rust off. Finally, rinse your tools and enjoy your now sparkly gardening tools.
Improves the look of your flowers

 

– If you want to showcase your outdoor flowers in containers, add a sprinkle of salt as well as a bit of baking soda to the water in your

 

gardening pots. This allows your flowers to seem fresh for a greater duration of time.
Cleans your fruits

 

– fill your basin with about 2-3 liters of water and add 3 tablespoons of baking soda and mix it. Now, add your fruits in your baking soda solution to safely remove pesticides, wax, and dirt from it.
Fungicide

 

–  baking soda provides an easy solution for the unwanted fungi that grows in the damp areas of your garden. All you have to do is mix four teaspoons of baking soda into a gallon of water. Use the mix to water the problem areas in the garden. It is particularly helpful for spot fungus on roses or for grapes and other fruit growing on a vine.