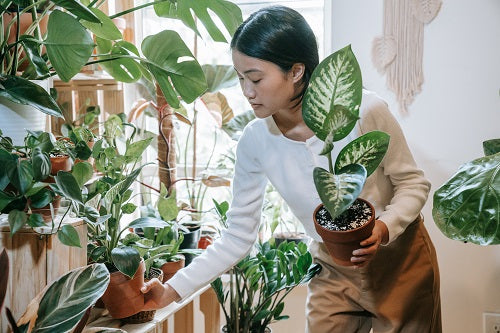 Playing With Houseplants for Indoor Garden Therapy
An indoor garden can be your safe haven from the outside world, and for many a great source of joy. Most people like having beautiful plants around. But there's more to it.
Physically, an indoor garden contributes to cleaner, healthier air for us to breathe as they reduce indoor dust by 20%, therefore, improving our well-being and comfort and creating a living space that is soothing to be in. An indoor garden is said to relieve stress, boost creativity, productivity and promote recovery. Houseplants have been associated with uplifting the mood, increased pain tolerance and improved rate of recovery from illness or injury in people. Working with plants can be therapeutic for people experiencing the symptoms of mental illness. To increase feelings of well-being among people with depression, anxiety and other conditions, horticultural therapy by trained therapists is recommended, to achieve specific therapeutic treatment goals. The goals will in due course help the person overcome difficulties, problems or obstacles identified by their therapists. So, the next time you grumble about looking after your plants, think about all the benefits you are getting in return.
Humans have a strong connection to nature. Hence, bring nature into your immediate surroundings by finding the houseplants that work in a wonderful way for you all year round, and start noticing improvements to your health and overall happiness. Feel a sense of accomplishment by admiring your plants' leaves and flowers, touch them and maybe even talk to them! This will help both you and your plants flourish.