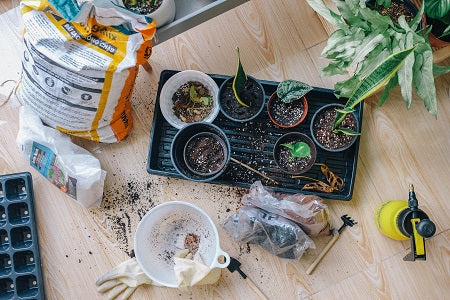 Houseplants You Can Easily Propagate From Cuttings
Do you love to see new plant babies come to life? If yes, then try propagating your houseplants and see them thrive. It's better to propagate your houseplants than buying new ones as that is an expensive deal. There are a lot of propagation techniques, out of which some can be done only by experienced gardeners, whereas, there are some that can be even done by any novice gardener. Here are some houseplants that you can easily propagate from cuttings.
Jade

 

– is one of the easiest plants to propagate. Cut about 4-5 inches long stem of the jade plant and propagate it in a pot during warm months for the best results.
Pothos

 

– it is a very popular houseplant. Pothos can be propagated either with soil or water. Snip off a healthy stem right below the root node. Also, make sure that the stem has at least 4 to 5 leaves. 
Spider Plant

 

– this is another popular houseplant because of its easy maintenance. A spider plant can be propagated by snipping off the plantlet and potting it into a small container. Make sure that the plantlet you choose has well-developed roots.
Croton

 

– is a multicolored plant native to India and Malaysia. You can propagate croton in 2 ways. You can either choose a stem that is at least 3 to 4 inches long and has a minimum of 3 leaves and pot it in a container of soil or water. The second way is to pot a leaf in water. Make sure that the leaf has some part of the stem. 
ZZ plants

 

– is an easy to grow and low-maintenance plant, perfect for novice gardeners. To propagate this plant, you only need to divide the plant in half or any number of divisions based on the size of the plant and repot it.