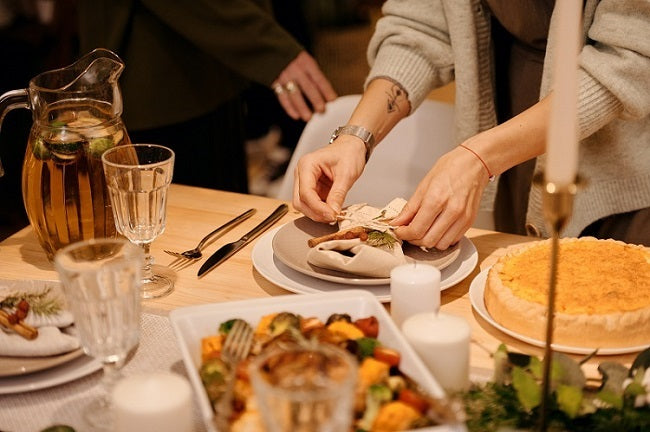 Thanksgiving Flavors That Make The Holiday Season Feel Magical
The holiday season seems more magical because of all the recognizable tastes and smells that appear at this time of year. Particularly when you can smell them permeating the air while huddling around a warm fire on a crisp fall afternoon with a cup of mulled wine in your hand. While each person will, of course, have their own unique memories associated with the holidays, for us, these herbs, spices, and blends are what really help us get sucked into the aromas and feelings of the time of year.
Cinnamon

- Cinnamon is a traditional Thanksgiving seasoning that is prized for both its aroma and flavor. Cinnamon is utilized in mashed or glazed sweet potatoes as well as in sweet treats like pumpkin pie and apple tart. Even the process of boiling down and seasoning cranberry sauce uses whole cinnamon sticks. Additionally, since cinnamon is a rather healthy spice, feel free to indulge in meals with its flavor!

Sage

- Sage is a herb that has several health advantages and is prized for its potent herbal scent and earthy flavor. Sage enhances the flavor of turkey, stuffing, dressing, and root vegetables like roasted squash. Sage is a flavor-enhancing ingredient that enhances mashed potatoes without adding calories or salt.

Thyme -

Sage, and thyme both work well for cooking a turkey. Thyme is an excellent taste for roasted potatoes as well if you prefer them to mashed ones. Green bean casserole can be spiced up by including thyme since it goes well with green beans. It adds taste to a salad of your favorite greens, fruits, veggies, and walnuts that you make in the fall. Thyme makes a delicious addition to your stuffing for Thanksgiving.

Nutmeg

- The flavor of nutmeg is equally distinctive to the holidays and essential to many meals. Use nutmeg to warm up a vegetable dish, like carrots, this Thanksgiving. Additionally enhancing the sweetness and spice of the sweet potato and pumpkin pie filling is nutmeg.

Cloves

- Traditional Thanksgiving delicacies like bread pudding and pumpkin pie are warmed by the strong flavor of clove, which is combined with cinnamon and nutmeg. It has long been used as a food preservation and may also be found in savory meals like chicken and dumpling stew. To stud hams, onions, and oranges, use whole cloves. Pro Tip: Get rid of them before you serve food.

Rosemary

- The flavor and aroma of rosemary, which is similar to pine, aid in giving foods a piney aroma. Rosemary is a terrific complement to citrus when cooking a turkey. Rosemary can be used to flavor baked apples, shortbread cookies, and carrots with honey glaze.

Parsley

-One of the most popular herbs in the US is parsley! Vitamins A, B, and C are among the nutrients found in abundance in parsley leaves. Here are some ideas for incorporating parsley into your Thanksgiving meal:

Use parsley along with sage, rosemary, and thyme to make a turkey rub.

To improve the flavor of your gravy, stir in some chopped parsley.

On your snack dish, garnish with fresh curly-leaf parsley.

Sage, thyme, and parsley should all be included in the stuffing.