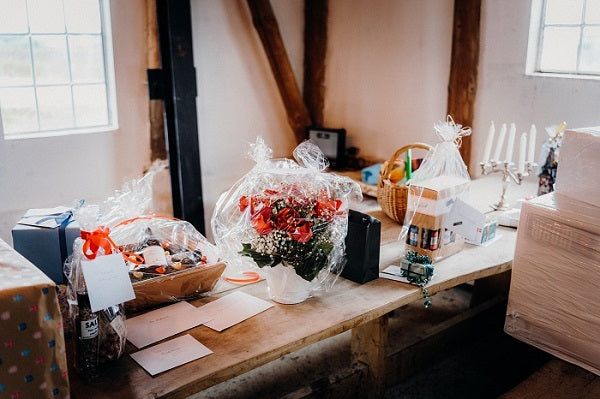 Thanksgiving Flowers And Plants For Every Host
A good way to wrap out the gardening season and foster feelings of generosity and thankfulness are to spend time with family and friends. Thanksgiving dinner planning can be difficult, but it's often an opportunity for us to get better at baking and decorating. One of the many essential components of any celebration is a gorgeous Thanksgiving centerpiece. However, doing so while using flowers and plants could take your décor to a whole new level. Thanksgiving flowers shouldn't adhere to any particular rules. Therefore, if you are planning a Thanksgiving dinner, why not use them to enrich this joyous occasion? If you're still unsure, the list of suggested plants and flowers for Thanksgiving with family is provided below.
Orchids

- Your dinner host will be really appreciative if you bring them a pot of gorgeous orchids. Like anthuriums and money trees, orchids are easy to care for and, with the appropriate maintenance, can thrive for many years. 
Roses

- Roses have a timeless appeal and are typically associated with romance. As a result, they are the alternative that most people use for floral arrangements. To honor the traditional fall colors, display roses in delicate tones. Given that they come in a number of festive colors, including white, soft yellow, red, and orange, roses make a fantastic Thanksgiving gift. 
Thanksgiving Cactus

- This cactus, which is frequently confused with the Christmas and Easter cacti, blooms with lovely red, pink, orange, or white blossoms around Thanksgiving. They make wonderful gifts and are surprisingly simple to grow indoors. They favor diffused sunshine, regular watering, and soil with good drainage.
Money Tree

- Because it stands for fortune, strength, and success, the money tree is regarded as a lucky plant. Let your dinner buddy know that the Money Tree promotes prosperity and the manifestation of positive energy. Money Tree requires little upkeep. It only needs occasional, light watering and bright, indirect light to flourish beautifully. 
Yellow Lillies
- Lilies have been linked to love, fidelity, purity, and fertility for a very long time. The flower's gentle and innocent beauty has guaranteed that it remains associated with ideals of new life and rebirth, making it an ideal gift for a loved one.