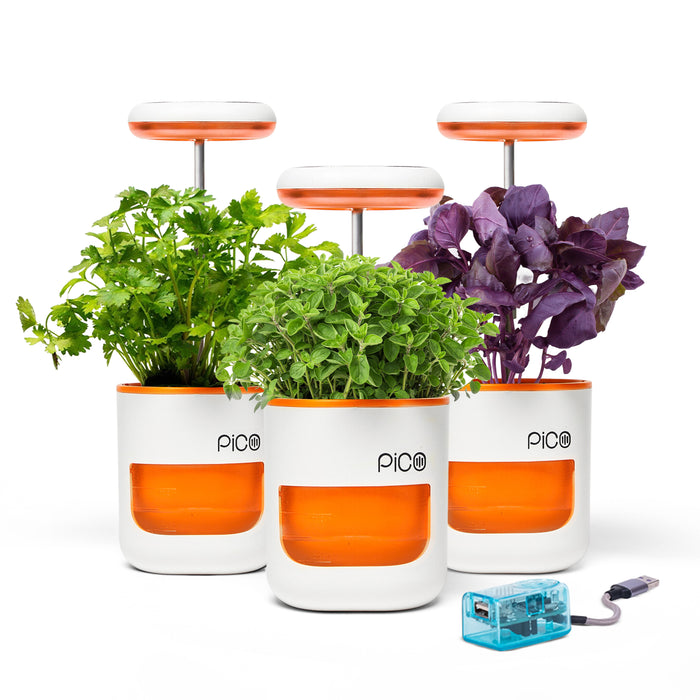 PICO
Plant Parenting Made Simple
Original price
$49.00
-
Original price
$147.00
Ships Within 48 Hours
30 Days Hassle Free Return
1 Year Warranty
OFFERS AVAILABLE
1. Free PICO Timer with PICO Pack of 3 (valued at $34)
Materials

• Food safe, BPA-free recyclable body
• Pressure die-cast aluminum heat sink
• Aluminum telescopic arm
• OSRAM LEDs with secondary lenses
• Custom-braided USB-C cables
Care Instructions

• Remove the telescopic pole, using a Philips screwdriver.

• Once the soil/ growing media is removed, force tap water through refill holes and pour out through other end.

• Repeat the above step, till all the particles are washed out.
Specifications

• Weight: 0.5lbs / 250gms
• Grow medium: 0.22lbs / 100g
• Water storage: 90ml / 0.02gal
• Assembled size: 12.5*3.2*2.4in / 32*8.2*6.3cm
• Packaged size: 5.5*3.5*3in / 14*9*7.5cm
• Colors: Coral White, Sea Green and Stone Blue.


What's in the Box

• PICO
• Mount
• Metal Bracket
• Diffuser
• Funnel
• Pole Stabilizer
• Power Cable
• Daisy Chain Cable
• 5 x Cable Organizer
• Rawl Plug & Screw
• Spare wick
• Wick Tips
• Adhesive Patches
FAQ

1)What kinds of plants can I grow in Pico?

Pico helps you grow most ornamental plants such as pilia and lavender, succulents, many edible herbs like basil and mint, and even some fruits and veggies like cherry tomato, chilli peppers.

2)What LEDs does it use? How many? What power?

Pico uses 4 horticultural LEDs from OSRAM of 3 varying wavelengths (white, red and blue). This provides complete autonomy from the sun. Pico can be powered by any USB charger output from 5V 1A and above.

3)How big can the plants in Pico get?

The space between Pico's lower half and the grow light module at its fully extended height is 22cm or 8.5''. This is comparable to seed-pod products in the market.

4)How does Pico give the plants the right amount of water?

Self-watering works with capillary action and it maintains an equilibrium of water saturation. Once plant roots absorb water, the capillary wick transmits the same amount of water upwards from the water reservoir below.

5)What is Pico made of?

Pico is made of food-safe BPA-free ABS and PC materials. The telescopic arm is stainless steel and the LED heatsink is made from aluminum.

6)Can I grow vegetables in Pico?

Besides all herbs and salad greens, you can also grow plants like cherry tomatoes, and chili peppers.

7)How much power does Pico use?

Pico works with a 5V 1A charger. Pretty much all phone chargers can be used.

8)How long does it take to grow fresh herbs?

Pico lets plants grow 3-5x faster as compared to growing in a pot. This is thanks to the self-watering, root oxygenation and abundant lighting.

9)Why no inbuilt battery?

Pico can run out any battery pack you might have, like Anker or Mi or Mophie. By not including an internal battery, we have

1. Maximized the space available for grow medium, plants, and water within Pico

2. Skipped regulations/ testings necessary, also saves hassle in shipping

3. Reducing the number of components that can go wrong -during shipping and in usage - thereby increasing the usable life of the product

4. Makes Pico cheaper and accessible to all!

10)How big can the plants grow?

Pico's telescopic grow lights can extend to 8.5'' (or 22cm). Many plants also cascade downwards like Rapunzel's hair. In this case, they can grow as high (or long) as the height you place your Pico!

11)Do the lights have to be plugged in, or just charged everyone once in a while?

Pico does need to be plugged in for the grow lights to work. In order to get the power needed for Pico's "sunlight" to work all day, a USB-C cable is included. Batteries with this kind of power would have made Pico needlessly complex and expensive, and would have reduced the product lifetime (how long does your cell phone battery last after 2 years?).

12)Are the lights always on?

When Pico is plugged in, the lights come on automatically. With the Stretch Goal unlocked, backers can now get the Pico-timer that automates the turning on and off of Pico's lights!

13)Is the timer built in?

The Pico-timer is an optional accessory that can be ordered through a survey at the end of the campaign. Its estimated price is $10-15.