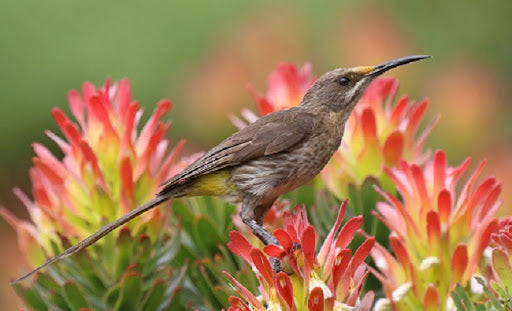 Plants That Attract Birds
Spring will add beauty, color, shape, and even aroma to your garden. But that's not all – birds are also fascinated by vegetation! Seedheads, berries, nectar, and fruit attract songbirds and hummingbirds throughout the year, giving them the energy they need to accomplish critical things such as flying, mating, and migration.
Coneflower – With low-maintenance coneflower, you may get amazing masses of gorgeous blooms in no time. Simply trim stems back to the plant's base in the spring. Aside from the natural purple coneflower, current breeding has resulted in a greater variety of bloom hues. They all have mid-to dark green foliage covered in short, rough hairs, which deters animals while also allowing them to withstand dryness.
Hyssop anise – From summer to fall, the long-blooming blue flower spikes of anise hyssop attract hummingbirds, butterflies, and bees. This cultivar grows more compact, standing 24 to 36 inches tall and 18 to 24 inches broad, and is a suitable choice for the middle of the border. Flowers are held straight on strong stalks, and the fresh leaves have a delicious black licorice scent.
Annual sunflower – Want to attract birds to your yard with annual sunflowers? The larger the flower's center, the better, so go with a single stem (just one flower per plant) type with dinner-plate-sized flowers. That's because, from late summer on, larger seedheads mean more seeds and a better landing area for winged guests, regardless of whether you leave the drooping seedheads or cut and put the stalks elsewhere.
Flowering dogwood – The dazzling white, red, or pink petals on flowering dogwoods are actually bracts. The flowers are the green-white button-like cluster in the center, which mature into the vivid early fall red fruits. Flowering dogwood berries are enjoyed by birds and will last well into the winter, despite the fact that they are inedible to humans.
American cranberry bush – American cranberry bush is a shrub that grows in the United States. This shrub provides interest throughout the year. The white lace-cap flowers of the cranberry bush viburnum bloom in the spring, and the leaves turn purple and yellow in the fall. Late summer produces tart and juicy bright red berries that resemble cranberries and provide food for birds in the winter. The dense summer foliage of the American cranberry bush, along with its naturally rounded habit, makes it an excellent hedge for adding seclusion or creating a barrier.
Flowering crabapple – Flowering crabapple is nearly synonymous with spring, and for good reason: blooms almost cover the entire length of the branches, filling the balmy air with a delicious smell. This attracts a variety of species, including the American robin. Plus, as the fruit softens after each freeze, crabapple fruit hangs on reliably throughout winter for birds to enjoy. Flowering crabapple trees may be planted practically anywhere, thanks to a variety of sizes and canopy shapes – even in small yards or indoors! Plant where you'll have an excellent view of your tree to watch the color show, as well as the birds who visit because many varieties have foliage that changes hues as it ages.