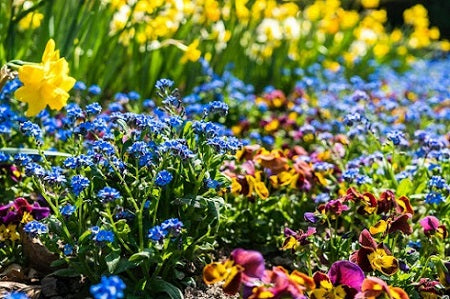 A Garden Full Of Colors For 2023
For us homo sapiens, a lot is perceived and understood by the colors around us. Colors are a way of communicating among many beings, being as an expression or just to merely impart knowledge. The combination of various abilities and our visual prowess makes us prominent beings in the ecosystem.
How we plan to live our lives is also one of the major aspects of how we think. Place, things, and colors play an essential role in our day to day and that is why many of us working individuals choose to travel for vacations to get a break from our regular mundane life. But if you are able to make your home the place where you can work, relax and feel comfortable, then every morning you'll find yourself in the most buoyant energy.
Adding colors to your garden is the best and easiest way to go about making your peaceful haven. Flowers are the first option that would come to mind when you think of a colorful garden. The store-bought flower is a shortcut to having a peaceful smile on one's face but having real experience growing flowers is preferred. Why is that? Any experienced indoor/outdoor gardener would suggest you do the same because of the little benefits that add up to a better result than buying store-bought flowers. You have the option to grow as many flowers as you want in the space you have so that you can have an array of colorful flowers when they bloom. Homegrown flowers live and last longer as they are in their natural growing habitat and not cut off from their roots.
The joy of having to see your flowers grow into beautiful, soft, and lush plants is similar to bringing up a child of your own. Read ahead about the flowers that can be planted together and support each other to have a sustainable canvas of colors in your garden.
With every season, you have an opportunity to grow a new set of colors that add a soothing fragrance to your household every morning of that season.
Flowers are not the only option when it comes to coloring your garden beautifully. There are planters with leaves that have different color palettes. Namely, Heuchera, Corton, Red Aglaonema, Purple Passion Plant, and many more are commonly grown plants that can have various colors of pigmentation in them. These are a result of different levels of chlorophyll in the plant and the amount of time the plant gets exposed to sunlight and darkness. The plants cope under various conditions and adapt themselves to end up with colors that aren't necessarily green.
Accessorizing your garden is a fun way of showing your interests and playfulness in your garden. It adds a little spark to the blooming garden and can be used purposefully if we put our thought into it. Garden Gnomes, artificial waterfalls, hanging pots, some ceramic decorative pieces, string lights, lamps, a birdhouse, and even some clean and well places rocks are just a few examples of the touch-ups that can be part of your garden.
When selecting the colors for your garden, try to aim for bright colors that are eye-catching. Keep in mind that adding too much color is not always a bad option. In most cases it is beautiful and guests that visit can complement and debate over their favorites.
Plan out the distribution of colors that you want. It shouldn't look shabby and more of an art on a piece of art on the canvas that is your garden. If you are planning to have pots instead of digging up your garden or in case of shortage of space, even the pots can be colorful. Being able to match the color of the plant to the pot is also beautiful to look at.
If you have a household with a fairly large backyard/garden, consider adding a bench in it to match the ambiance and a place to sit where your man-made ecosystem can be appreciated.